Our website is made possible by displaying online advertisements to our visitors.
Please consider supporting us by disabling your ad blocker or buy
PlayOn (record Netflix)
:)
Tool
Description
Type
Rating
Comments
TVDownloader (aka YoutubeVideoDownloader) downloads video and audio streams from Youtube, Vimeo, DailyMotion, Twitch, Veoh, BBC, +900 more sites to a videofile or mp3file. Very easy to use, just copy the video url, set the output folder, select the video resolution option: Best, 1080p, 720p, 480p, 360p and download! Based on youtube-dl and ffmpeg.
Freeware
OS:Windows
Version:1.15.2
Released:Sep 11,2017
File size:30.4MB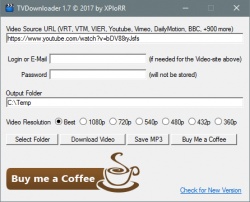 Click to enlarge screenshot
Latest version
1.15.2 (September 11, 2017)
Download
Visit developer's site
Download TVDownloader 1.15.2
[30.4MB]
[Win]
Download TVDownloader old versions