Use the blue menu here below to navigate.
Using - Panasonic MPEG1&2 Encoder
This is the number one encoding program when it comes to quality! Unfortunatly it is extremly slow!, and also it is not a shareware which can be downloaded for free, the only way to use it to encode DVD VOB files is by combining the DVD2AVI and VFAPI Converter FrameServing methods. if you are using AVI then you should have no problems.

(* NOTE: It Does NOT support .VDR from VirtualDub! *)
Step 1a - Open Panasonic Encoder, Under the "New Project" select the "Stream Type" you will be using, in this example it will be "MPEG1"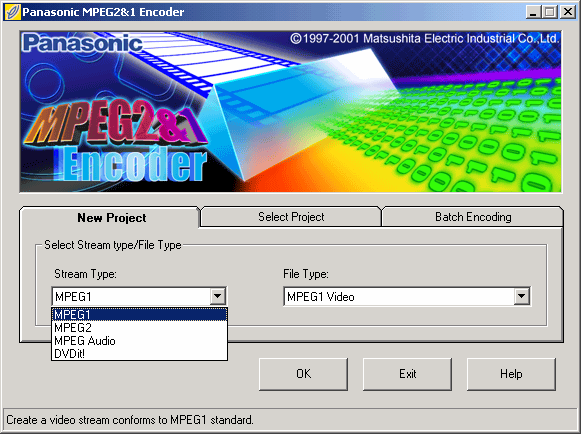 Step 1b - Now select the "File Type" from the pulldown list, in this example i'll be using the "VideoCD/NTSC" Standard. Click on the "OK" button to continue.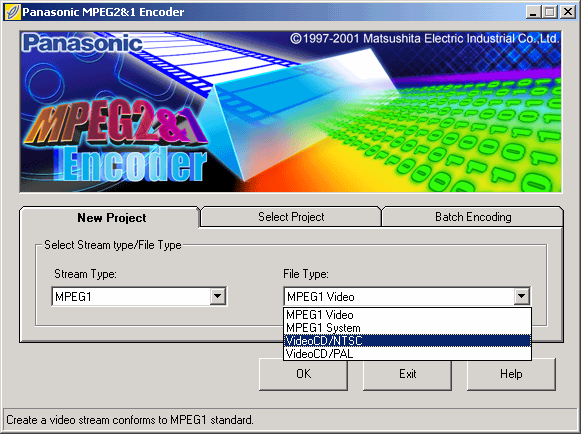 Step 2a - Under the "Source File" use the "Browse" for "Video" and select the Fake AVI that was created by "VFAPI" and then select the WAV file that was created by "DVD2AVI" and when you are done, the "Output File" should be filled automaticly.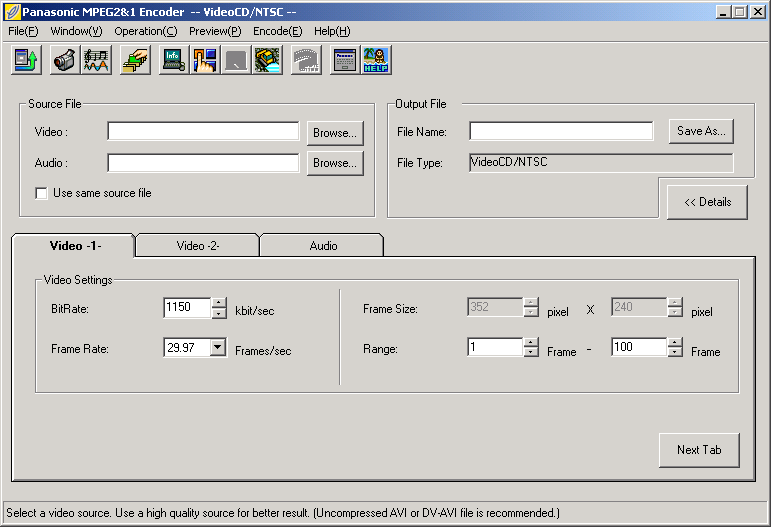 Step 2b - Under the "Video -1-" category, select the "Frame Rate" which matches your movie.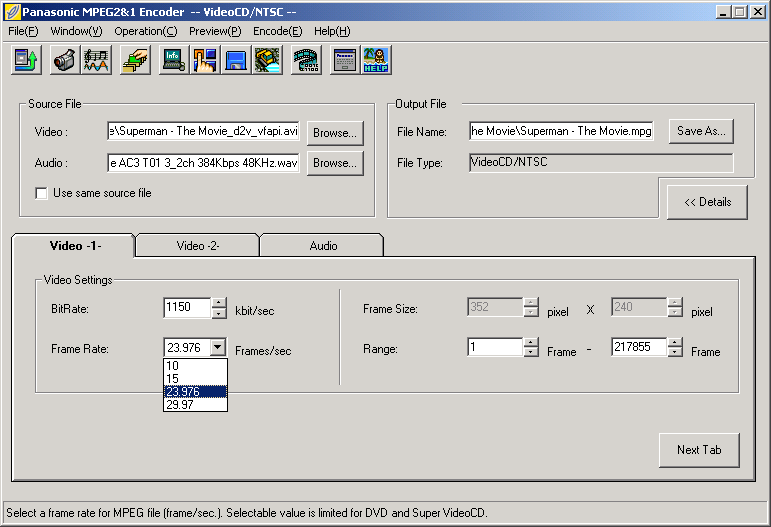 Step 2c - If you want to encode in two parts, use the "Range" to select a Start and End "Frame" and change the "Output File" to match the part of the movie you will be encoding, so you do not end up overwriting.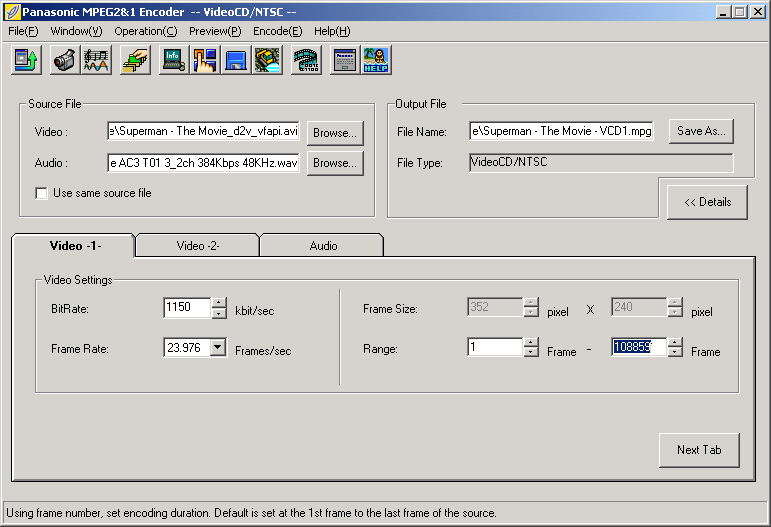 Step 2d - In the "Video -2-" category, select a "Quantizer Matrix" for the best Video Quality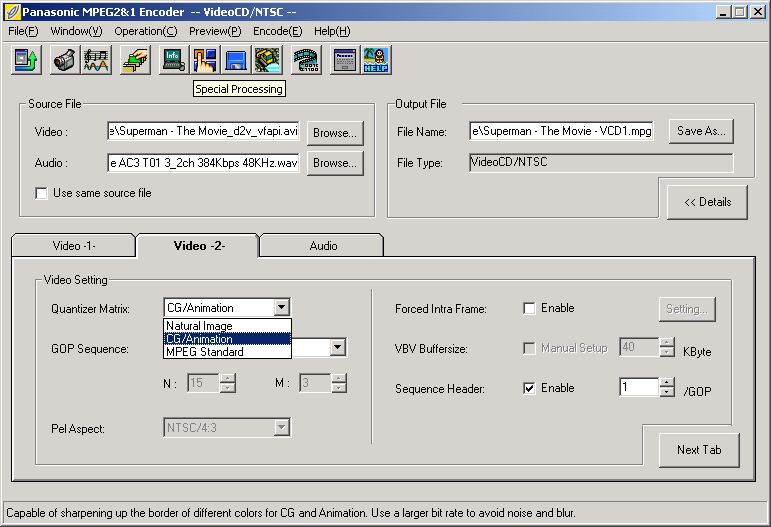 Step 2e

- AFTER you finished Encoding the first part of your movie, Change the Start end End "

Frame

" to encode the second part.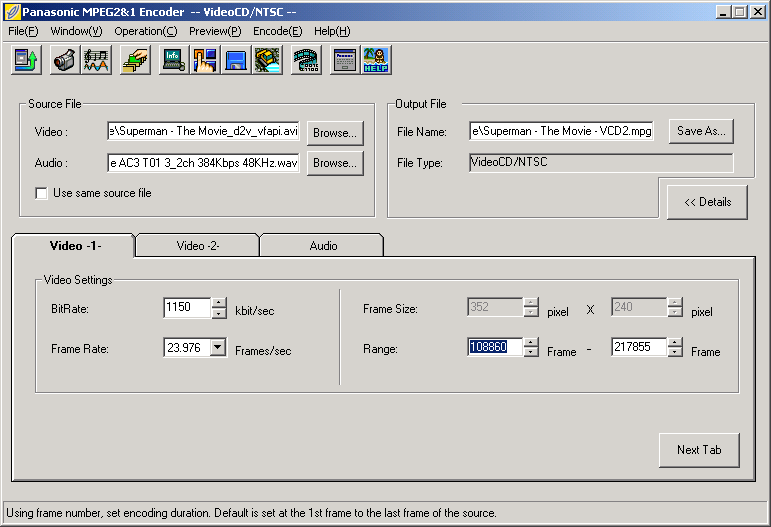 Step 3a - When you are satisfied with the choices you made, Click on the "Encode(E)" and press the "Start Encoding" button and wait.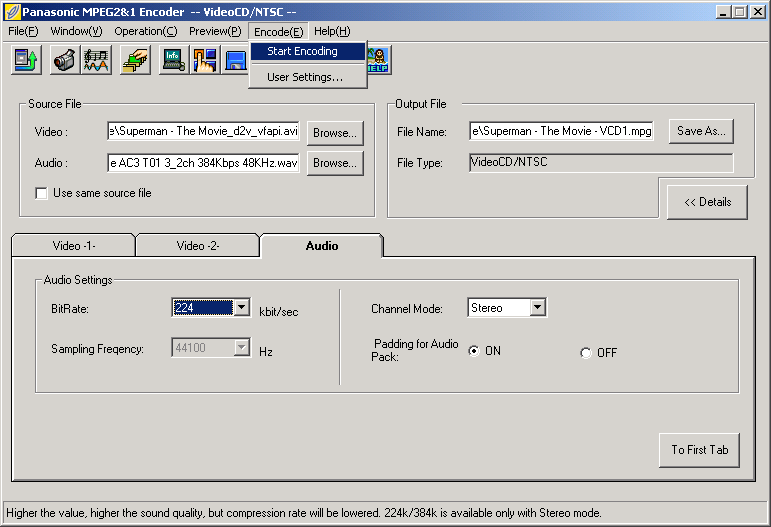 Step 3b

- As i've mentioned, this is an extremly slow Encoder, so this will take awhile.



Next - Authoring [Burn! Baby Burn!]