Use the blue menu here below to navigate.
The Original Official Guide by Sefy Levy
More Guides:
ImTOO DVD Ripper / EasyDivX / Complete Guide / TMPGEnc / DVDx / VirtualDub+LSX / AVI to VCD

Introduction!
In this guide, I will attempt to make it as easy as possible to explain how to create a VideoCD of your DVD movie, This version of the guide is specific to DVD2SVCD program, which is an all-in-one capable. Meaning, it will do the ripping, frameserving, subtitles and encoding of your movie from start to finish. It's basicly an Interface which provides easy set up for other programs.
Programs used in this guide:


Ripping to Encoding - DVD2SVCD
Burning Images - GoldenHawk CDRWin
Before we start with the guide, please make sure the tools you are going to use actually work and setup correctly! Install the tools you are going to be working with and make sure all applications work, and then we are ready to begin! For this example i've again used "Superman - The Movie Special Edition" (NTSC/154min/DD51@384k) and we will be converting it to a Video-CD NTSC Standard so it will fit on two 80 min CDR media. (or 74 min with Overburning, which is only if your CDRW drive and media supports it!), do remember that 740mb file size will fit into a 74 min CDR and 800mb File size will fit into a 80 min CDR (in VCD 1 min = 10mb!).

Lastly, this is to all Newbie's using the guide, use it as an EXAMPLE, don't set everything EXACTLY the same on your movie, make the changes that are needed,

follow

the guide,

don't worship it

, it's only to be used as an Example, so it will be easier for you to

Learn

. If your movie is PAL then make sure you set everything to PAL and not NTSC as in the guide itself!
This guide will be divided into the following sections:


Step 1 - Conversion
Step 2 - DVD Rip
Step 3 - Frameserver

Step 4 - Audio
Step 5 - Bitrate
Step 6 - Encoder
Step 7 - Subtitles
Step 8 - Chapters / Images
Step 9 - Finalize
Step 10 - Burning!
===========================================================================================

Step 1 - Conversion

After you first load DVD2SVCD, please your DVD Movie in your drive, and click on the DVD Icon Button, this will scan your disc and automaticly select the movie, if you wish to encode a different segment of your movie, you can click on "Movie Length" and do the changes, if you want more accuracy, you can use the "Use frame selection" and for those who live in the US and you've recieved a PAL movie, you can use the "NTSC to PAL" to do a conversion.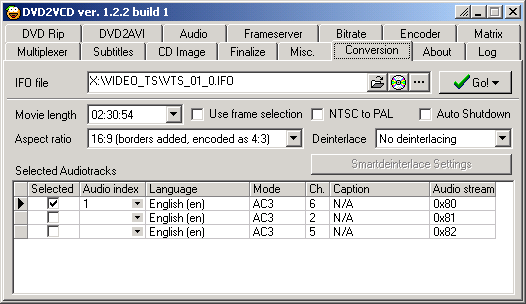 Clicking on the "DVD Rip" tab, you can set up if you want DVD2SVCD to do the ripping itself by clicking on the "Activate DVD ripping" and then set it up to "Use Internal routines" or "Use vStrip" which is an external program, you can also set it up to "Eject DVD when ripped" so the DVD movie will be ejected after it was ripped. Here you can also select which location to rip using the "Rip to folder" option.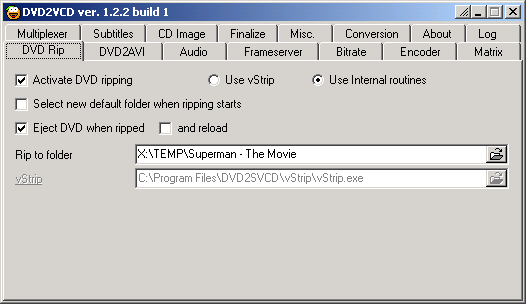 Step 3 - DVD2AVI / Frameserver

Under the "DVD2AVI" tab you set up the location of DVD2AVI and where to "Save project in" and which "iDCT Algorithm" should be used, you can also set the "NTSC Field Operation (Force film)" for those NTSC Film movies.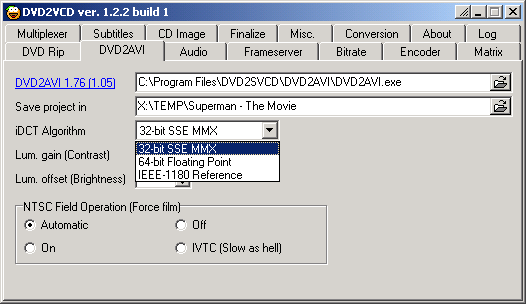 Step 3b - Under the "Frameserver" tab, setup the Quality of the frameserving file when using the "Avisynth setup" option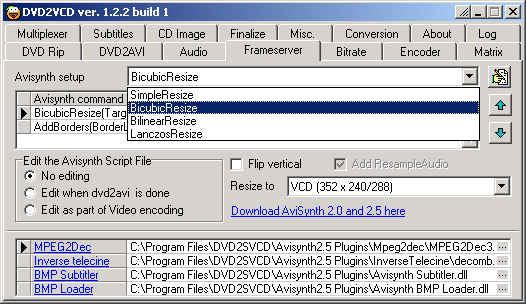 Step 3c - Also you can set how the end resolution will be using the "

Resize to

" pulldown menu.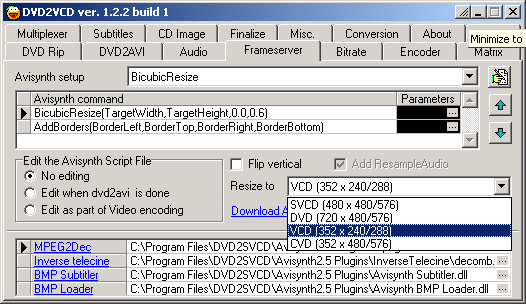 Under the "Audio" tab you can select the language which will be used in your movie using the "Audio 1 Priority 1" if you are creating an SVCD or DVD with Multilanguage, you can use "Audio 2 Priority 2" to enable the second language.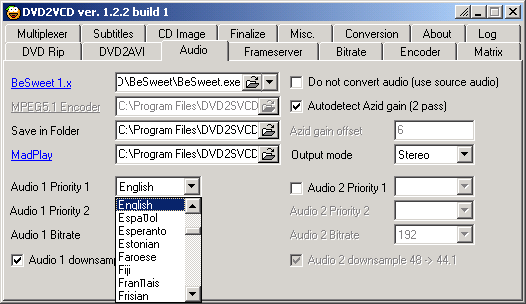 Step 4b - Use the "Audio 1 Bitrate" the set the quality level of your Audio, default for VCD/SVCD is 224kbps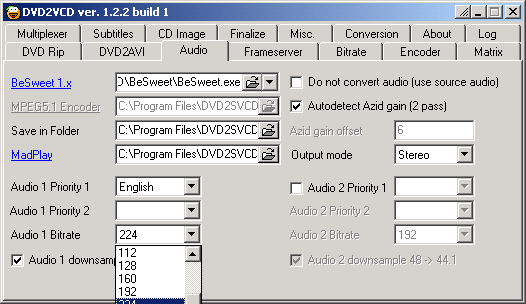 Step 4c - Using the "Output mode" pulldown menu, you can select your Audio Settings from Stereo to a MPEG 5.1 (SVCD or DVD only!)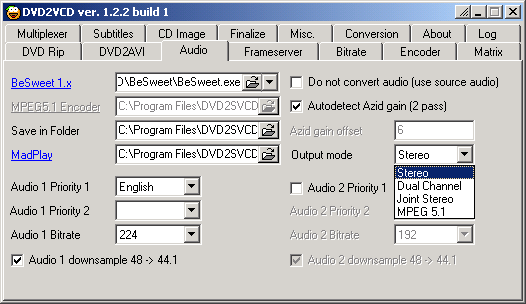 Under the "Bitrate" tab, you select how the movie will be split to be fit into a CD size, in this example, since the movie is 153min long, you can set it up to use 2 CD size of 800mb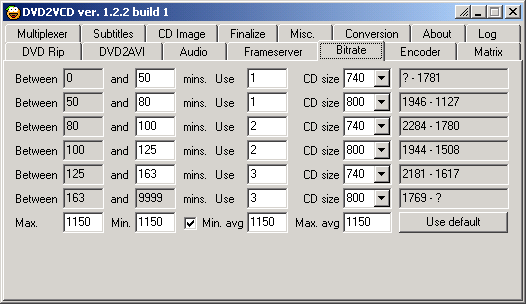 Under the "Encoder" tab you can select which Encoder to use from CCE / TMPGEnc or Canopus, they will be loaded when needed during the process. use the "Rate Control Mode" to set the quality of the encoding.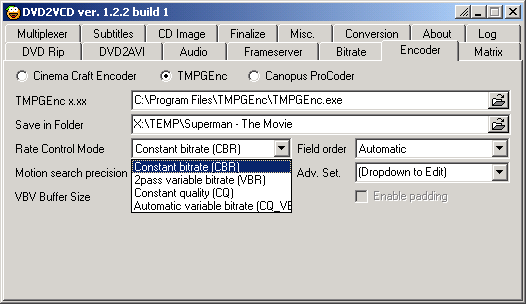 Step 6b - Also set up the "Motion search precision" for picture/movement quailty of the movie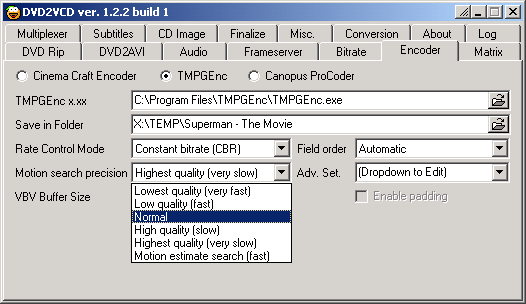 Step 6c - Use the "Field Order" to select between Automatic or Top and Bottom field.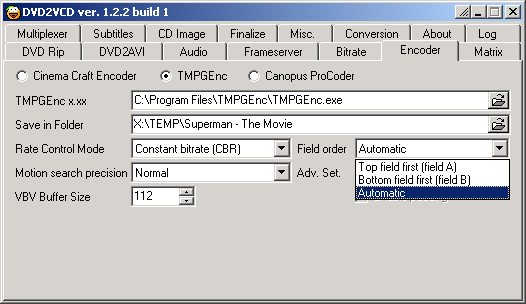 Step 6d - Under the "Matrix" tab you can use the "Presets" to define the encoding type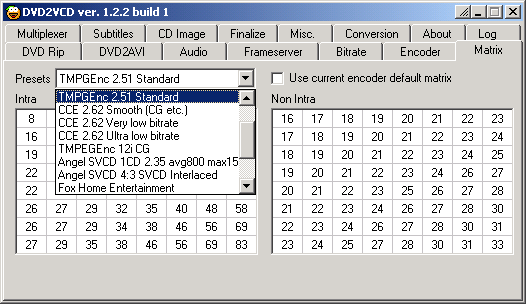 Step 6e - Under the "bbMPEG" you set up the location and "Save in Folder" of the Final Resulting MPEG files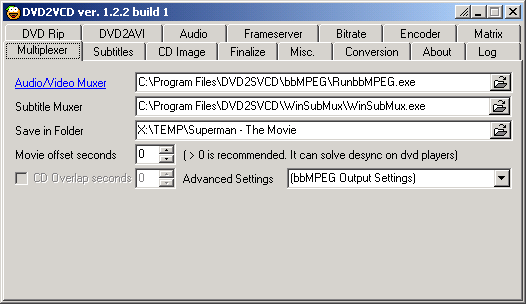 Under the "Subtitles" tab you can select which Subtitle language (or languages if multiple) will be used in the movie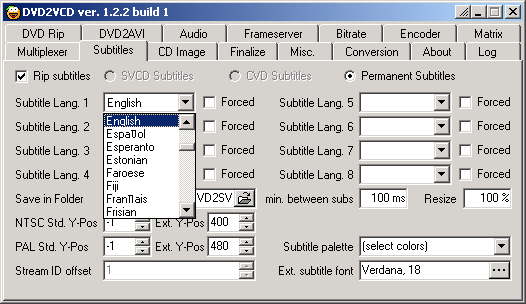 Step 7b - Click on the "Forced" option if you want to use ONLY some of the subtitles, such as Alien Language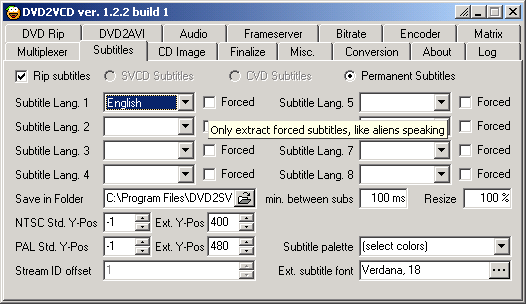 Step 7c - Clicking on the "Subtitle palette" you can choose which colors to display the text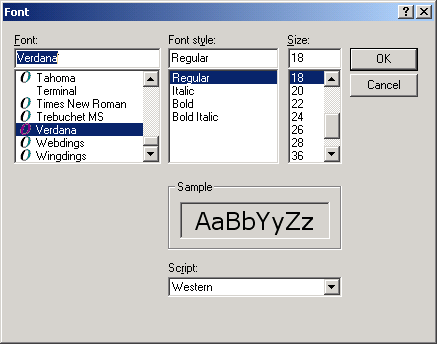 Under the "CD Image" tab you select the "Movie title" and "CD Label" which will appear when you insert your Burned movie into the drive. You can also set how you want the Chapters in the movie, either "Fixed Chapters" or "DVD Chapters" to match the Original DVD movie itself, Or you can use the "No PBC" to disable chapters completely.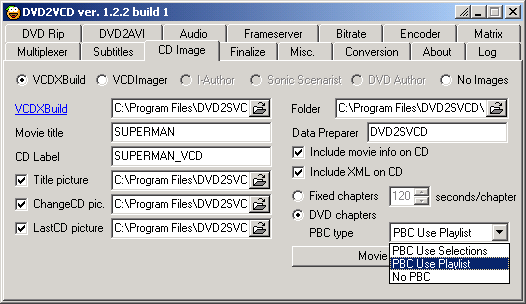 Under the "Finalize" tab you can select which Burning program will load when the images are done. Or you can skip it and load your Burning program for Bin/Cue images later on. Use the "Run this (per cd image)" option to select which burning program to load up.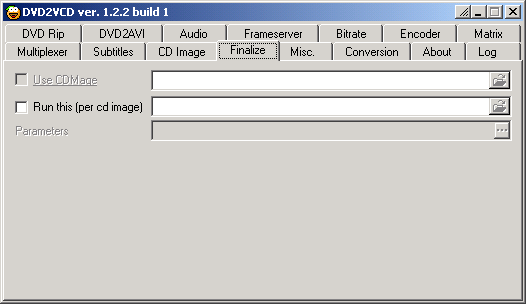 Step 9b - Under the "Misc." tab select the "Output file type" of your movie, if it's a VCD/SVCD or DVD, and also what is your "Input file type" for DVD or AVI sources.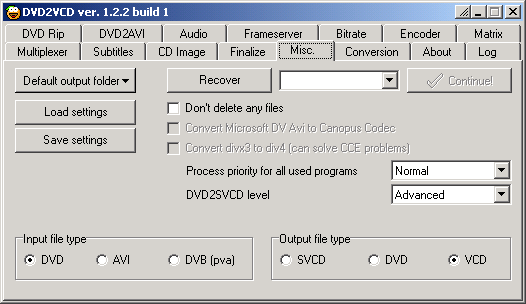 Step 9c - Back to the "Conversion" tab, click on the large "V" button and select "Rip and convert" to begin the processes.


Step 9d - If you selected the "DVD Rip" option you will recieve a "Continue?" window, make sure your DVD Movie has been played by a DVD Player (like WinDVD or PowerDVD) so the ripping process will not fail. When you are ready, click on the "OK" to begin.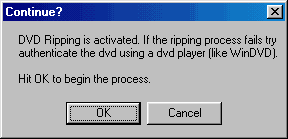 Next - Authoring [Burn! Baby Burn!]
Step 10 - Burning! - Using CDRWin
The program that invented the Cue/Bin file standard, and is the most accurate one to do the burning for these file types, it is however very problematic when it comes to burning over 80min movies, and you can use many alternative programs to burn this file format..
Step 1 - Open CDRWin and press "Record"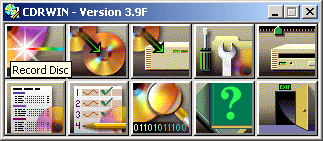 Step 2a - Press "Load Cuesheet" to bring up the file open dialog.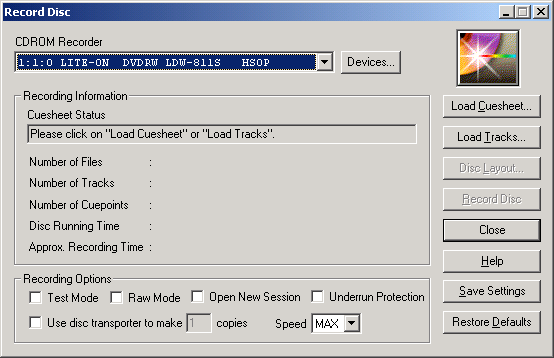 Step 2b - Press "Open" on the cue file that was created.
Step 3 - If your CDRW supports it, then select "Underrun Protection " and then press the "Start Recording" button.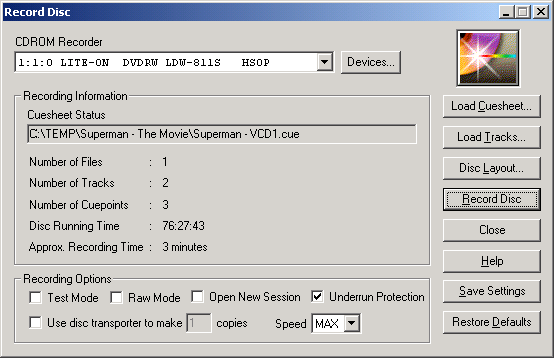 Repeat those steps when you are ready to burn the Second Cue/BIN files.

THE END