Use the blue menu here below to navigate.
Using - ImTOO DVD Ripper - Direct from DVD
ImTOO DVD Ripper is a DVD converter which can convert your favorite DVD movies to almost all popular video formats such as VCD, SVCD, DivX, MPEG, AVI etc. It is All-In-One tool which does not require any additional software.

Step 1 - DVD Movie Copying!

Load your DVD Movie in the DVD drive and use the "

DVD

" button, this will automaticly select your movie VOB files and scan your Movie, if you want to encode a different segment of your DVD, click either the "

IFO" or "VOB

" buttons instead. Then click on the "

Browse

" button next to the "

Output Folder

" to select where to save the encoded movie.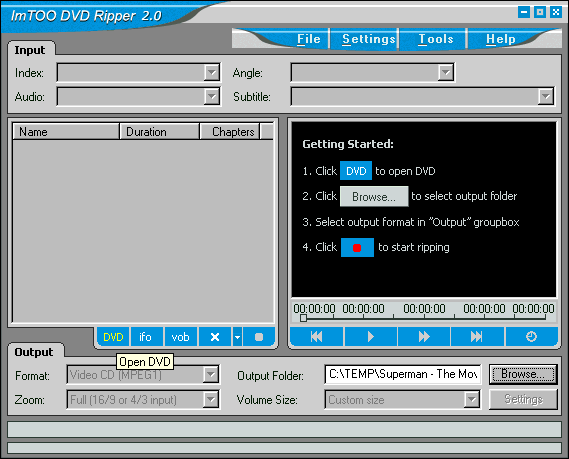 Step 2 - Select Title

Under the "Input" click on the "Index" and select which Title or Segment you wish to Encode.
NOTE: If you wish to use more Advanced Input Settings, Click Here!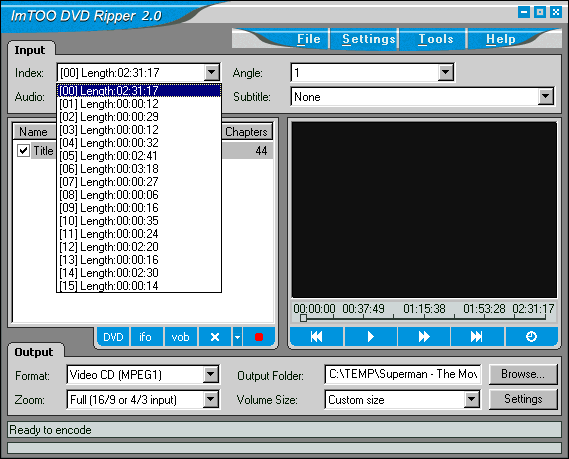 Step 3 - Language Playback

Under the "Input" click on the "Audio" pulldown list, and select the Language for your Movie.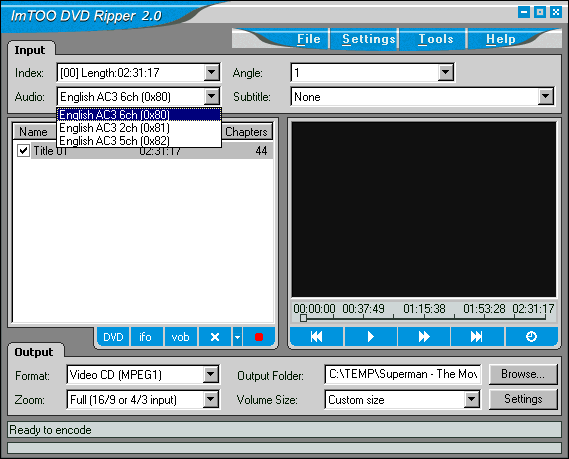 Step 4 - Movie Angle (Optional)

Not all movies give this option, but if your movie does, and you wish to encode a different Camera Angle then the Default one, just click on the "Angle" pulldown list, and select the angle of your choice.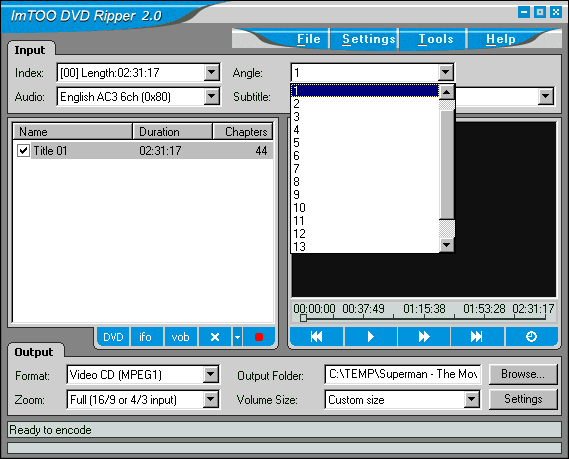 Step 5 - Movie Subtitles (Optional)

If you want your movie to have Subtitles, simple click on the "Subtitle" pulldown list and select. If you do not wish to have Subtitles, simply click on the "None" option instead.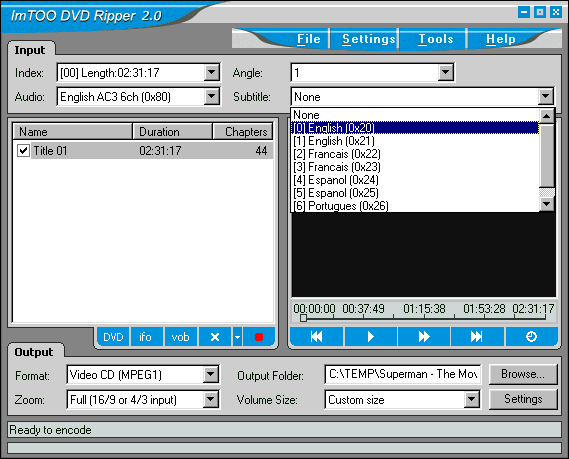 Step 6 - Output Format

Under the "Output" you can select the type of movie to encode, either "Video-CD" or "Super VCD" or even a DivX variation.
NOTE: If you wish to use more Advanced Output Settings, Click Here!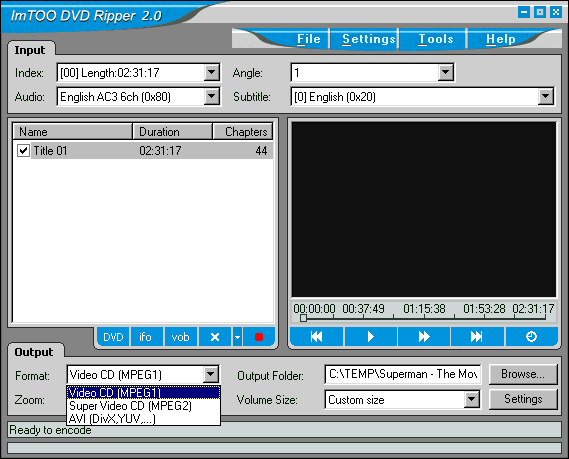 Step 7 - Aspect Ratio

Now you need to select how the movie will be played back on the TV. If you want to maintain the same Ratio as the Original Movie, simply select the "Full (16/9 or 4/3 input)" setting. Use the other settings if you want to convert the movie to a Full Screen or just Partial. You can also use the Playback option to test your selection.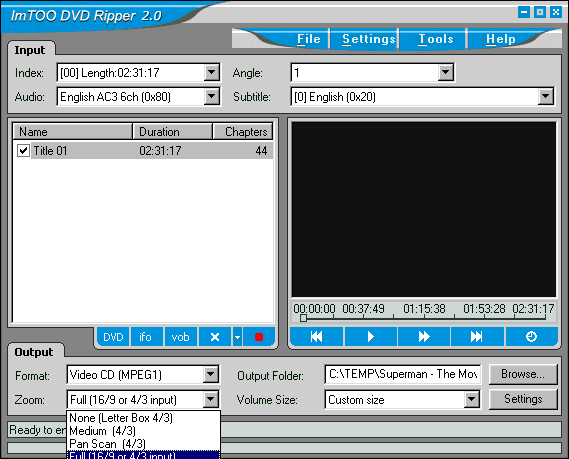 Step 8 - Splitting

Now select if you want to Encode the movie as one file (good for 74/80min movies or 90min if you can use those CDRs) or if your movie is longer and you need to encode it in several parts. Click on "Volume Size" pulldown list and select how to split, or you can use the "Custom size" to select a specific size to split.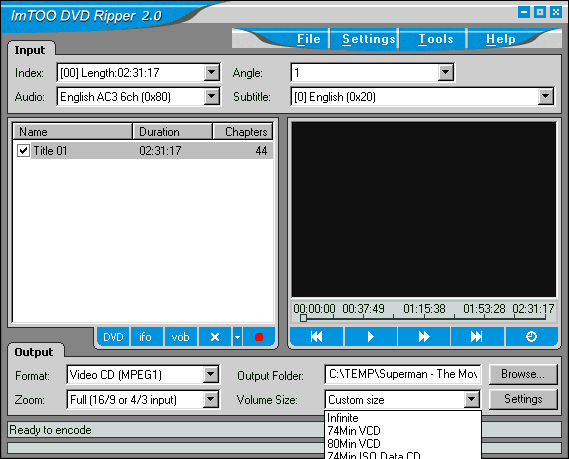 Step 9 - Encoding the Movie

Once you are satisfied with your choices, click on "

Record

" button and this will begin the Ripping and Encoding of the selected Item(s).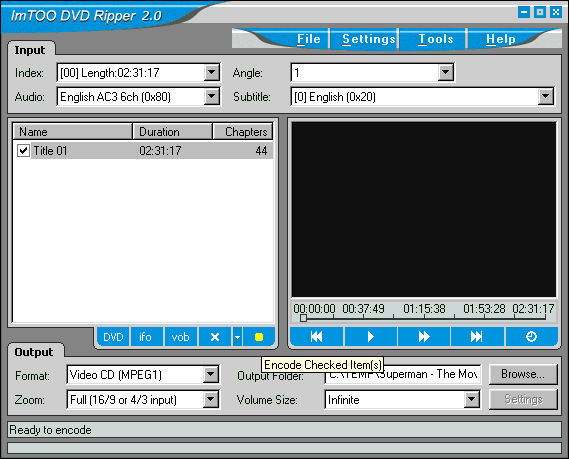 This is an Example of how the Encoding will look like. At the bottom you can see how fast it will encode, and how long it will take.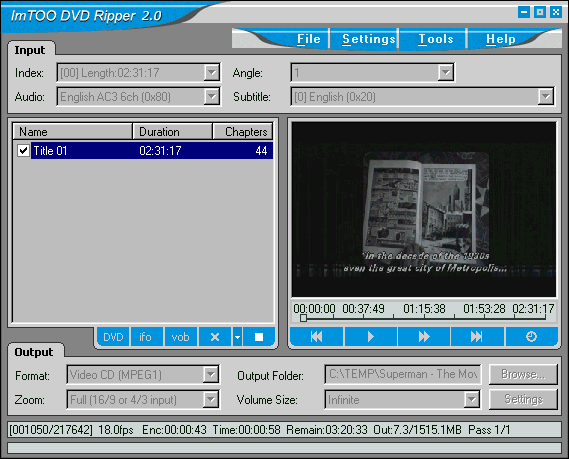 Next - Splitting large MPEG files to fit CDR media! or Authoring [Burn! Baby Burn!]