Use the blue menu here below to navigate.
Using - Nero Recode 2 - Direct from DVD
With Nero Recode you can remove unwanted material from a DVD and convert it with an optimized bit rate so that it fits on a normal blank cdr or dvdr. It's included in Nero6/NeroVision2. What is being shows here is only possible with the DVD-Video Plugin enabled!


NOTE: I Recommand using "AnyDVD" to get a direct access to your DVD Movie without needing to copy it to your HDD!

Step 1 - Import DVD Movie!

Click on "

Copy DVD to Nero Digital

" and now click on "

Import Titles

" then select your movie title using the "

Add Title

" button and when you are done, click on "

Finished

"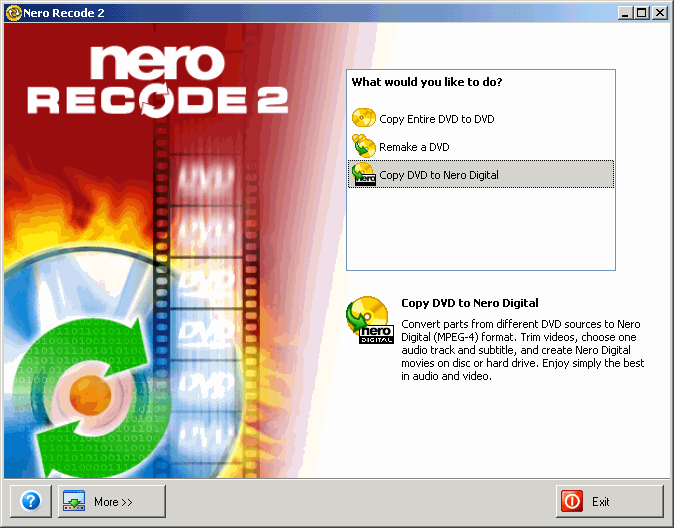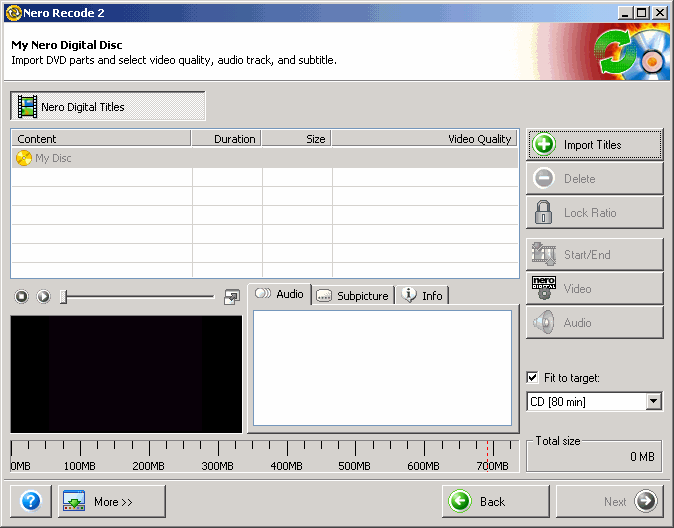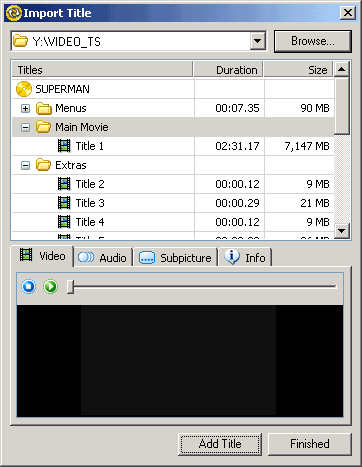 Step 2 - Nero Digital Titles



In the "

Audio

" tab select the Language of your DVD movie, below it, select how to "

Encode Nero Digital Audio

" into "

Stereo

" or an AC3 "

5.1 channel surround

" sound. Then select the "

Subpicture

" (Subtitles) to encode in the movie. For more optimizations click on the "

Video

" or "

Audio

" buttons on the right.

(

* NOTE: Stereo will work on all PC's, but AC3 will require a codec installation! *

)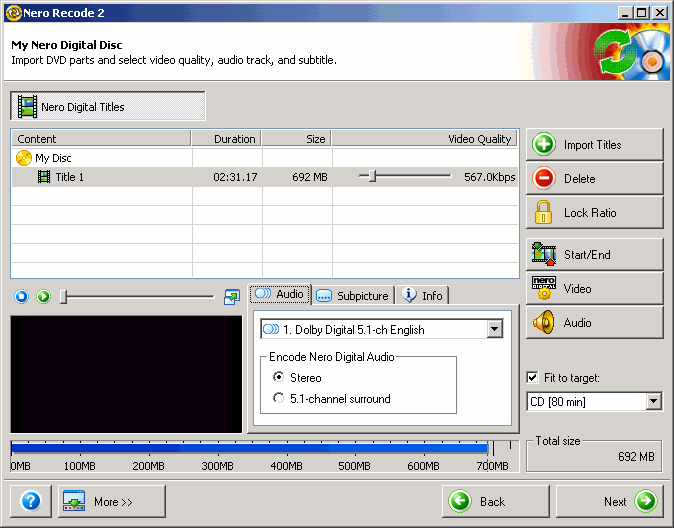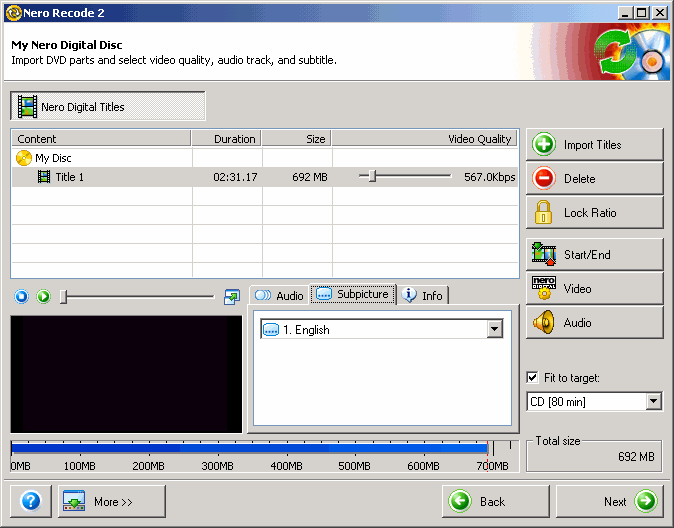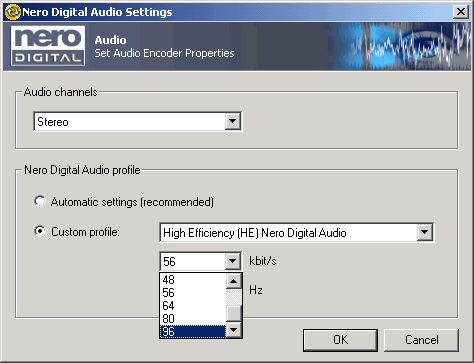 Step 3 - Burn Settings

Now select the "Burn Options" for your movie, the "Destination" can be a "Hard Disk Folder" / "DVD Burner" or creating an NRG image using the "Image Recorder". Click on "Nero Digital Settings" to select the "Encoding method" and quality. You can enhance and tweak the quality by selecting the "Expert" mode. When you are done, click on "Burn" to being encoding.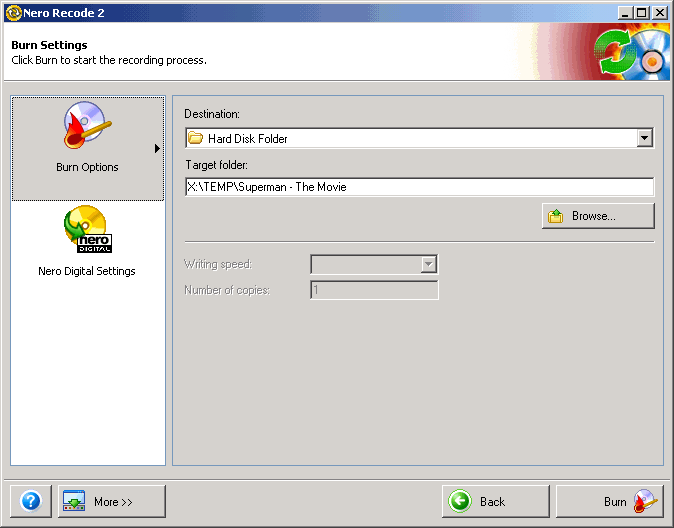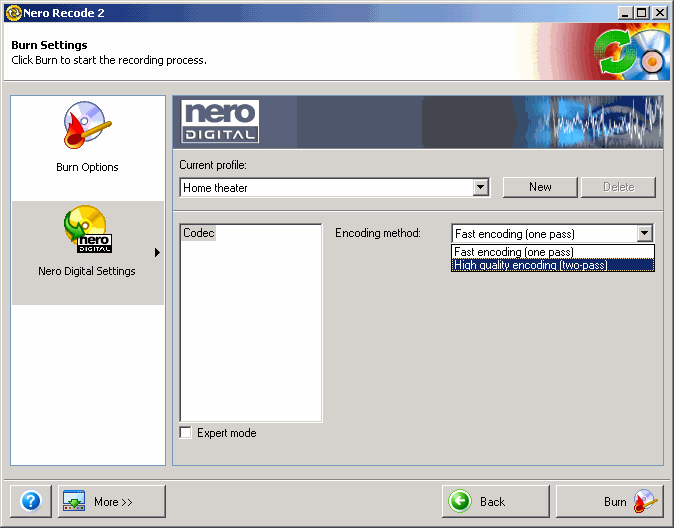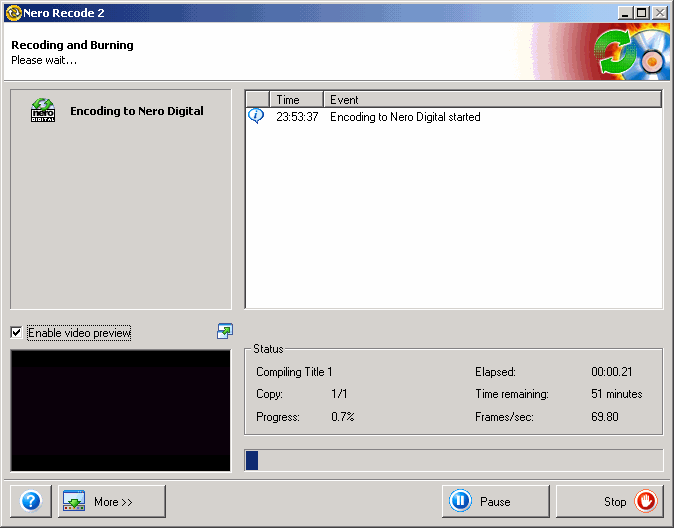 THE END