Use the blue menu here below to navigate.
Using - DVD Shrink
This Freeware program is capable of backing up your DVD Movie into a DVDR media. If your source movie is larger then the DVDR media size, you can use the menus to remove or re-encode the movie to make it fit.


NOTE: I Recommand using "AnyDVD" to get a direct access to your DVD Movie without needing to copy it to your HDD!

Step 1a)

Click on the "

Open Disc

" button.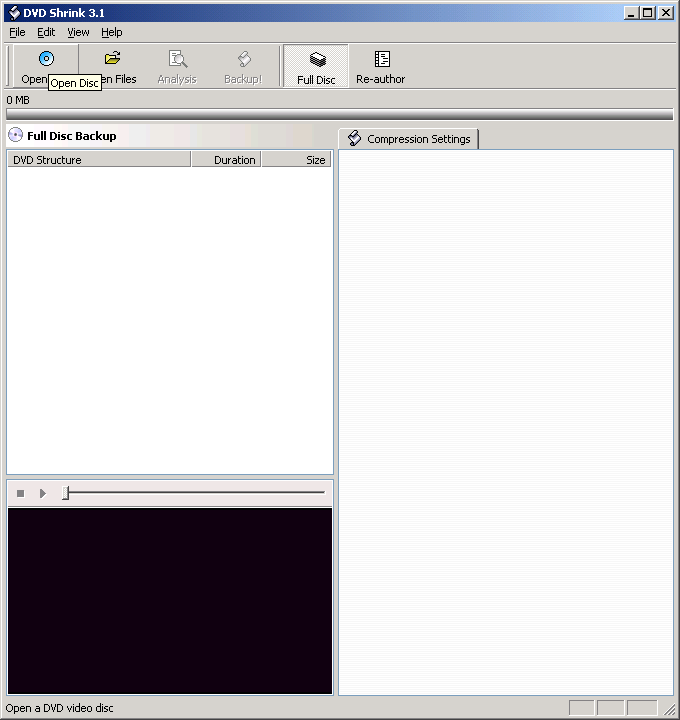 Step 1b)

Use the Pulldown options to "

Select DVD Drive

" that contains your movie, when selected, click on the "

OK

" to continue.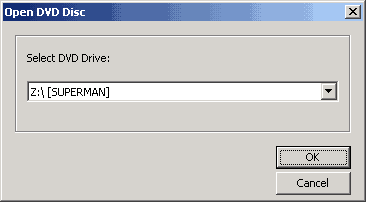 Step 2a)

After your movie as been loaded, you will see a screen similiar to the one below, showing the "

DVD Structure

" of your movie. You can browse through the titles and select what you want to modify or remove.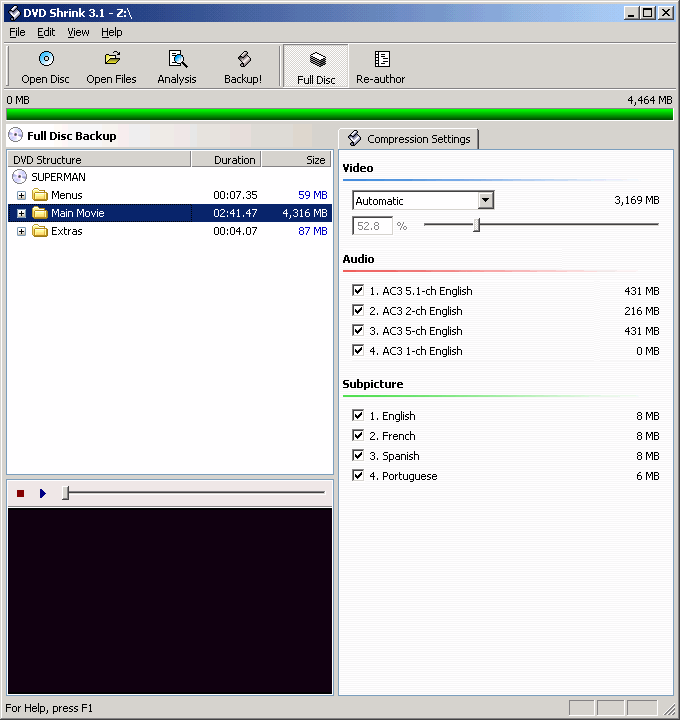 Step 2b)

To maximize the movie quality, remove unrequired Audio Tracks and Subtitles to increase the Video Quality of the movie. Use the "

Compression Settings

" to pre-set a Bitrate for your movie or use the default "

Automatic

" settings. When you are satisifed with your choices, click on the "

Backup!

" button to continue.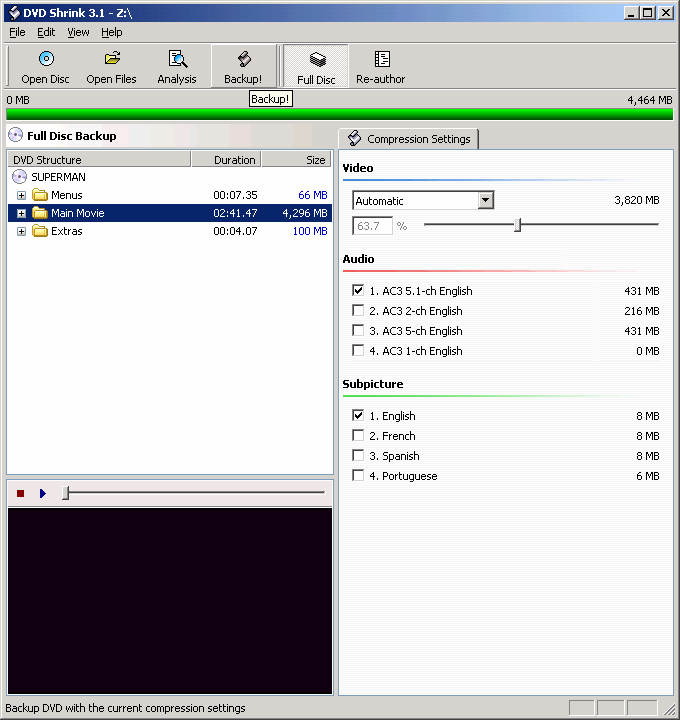 Step 3a)

If your DVD has RCE protection, select from the "

Specify region

" the correct region code, or your movie may not play.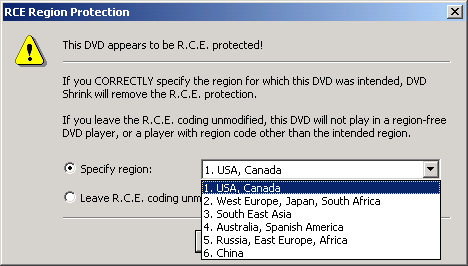 Step 3b)

Under the "

Target Device

" you need to select using the pulldown menu, which device you want to write the movie, you can choose from the DVD Burner itself (

3b1

) or create a "

ISO Disc Image

" (

3b2

) and burn using a ISO capable image burning, or creating a "

Hard Disk Folder

" (

3b3

) named "

VIDEO_TS

" which you can later burn with any DVD Authoring program.



3b1)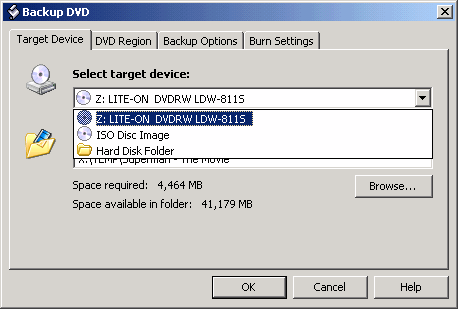 3b2)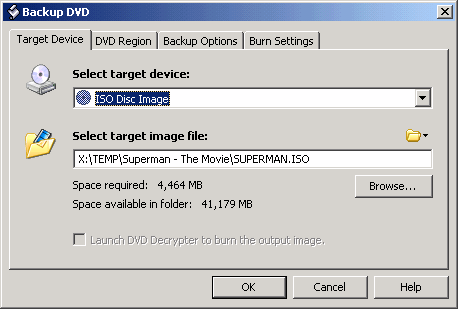 3b3)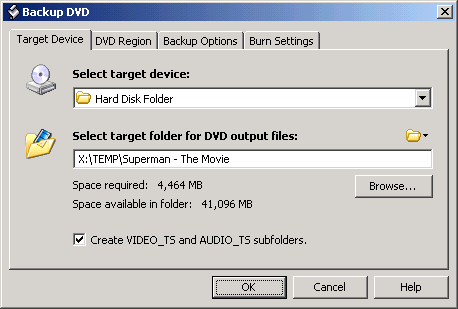 Step 3c)

Under the "

DVD Region

" menu, you can select to make your movie into "

Region Free

" or to limit it to a specific region.


NOTE: If you select "Region Free" the movie will play on every DVD Player.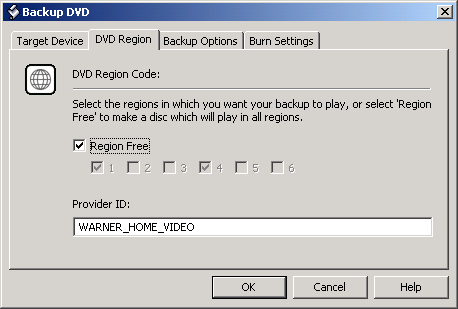 Step 3d)

In the "

Backup Options

" mark the "

Perform deep analysis

" so you can improve the quality of your backup movie.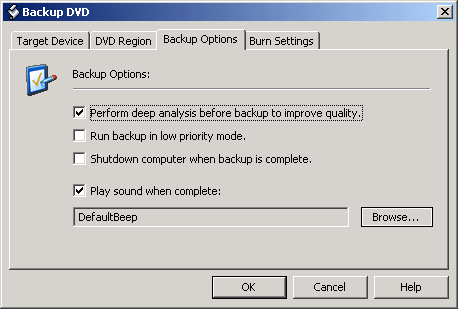 Step 3e)

Under the "

Burn Settings

" you can select the "

Volume Label

" which will appear on your DVD Movie when your insert the disc to your DVD Drive. When you are satisfied with your choices, Click on the "

OK

" button to begin.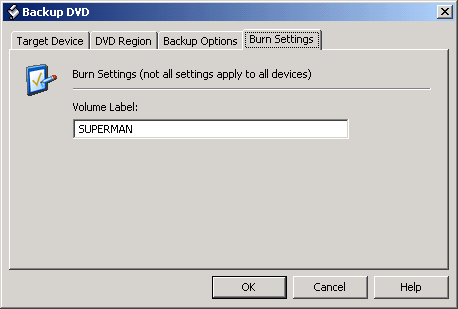 Step 4a)

DVD Shrink will perform an Analysis of your movie before the actual encoding, So the resulting movie will have higher quality if it needs to be re-encoded. This can take a long time, depending on your Processing Speed.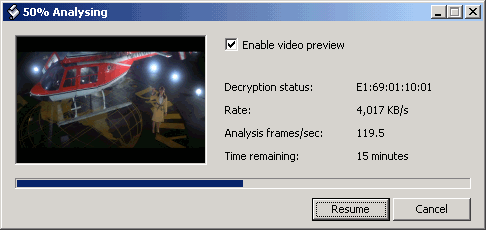 Step 4b)

Once the Analysis is done, DVD Shrink will begin Encoding your movie and create a "

VIDEO_TS

" folder which you can burn using any DVD Authoring program.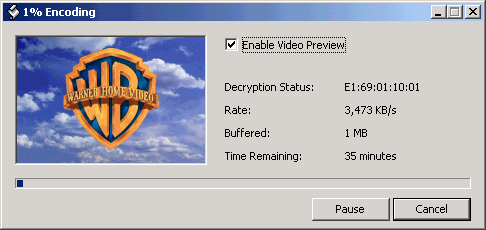 Next -
Burning To DVDR Media!