Use the blue menu here below to navigate.
Using - CladDVD XP
This is an update to the CladDVD program and it is capable of not only copying the movie, but also generating frameserving files.
(* NOTE: This section of the guide was done with the great help from kwag who has taken the time to do the images for me and explained each step of them *)

Step 1 - Place your DVD movie in your drive ( DVD drive, NOT a CD drive!) and select a Source Drive and also a Target Location where the files will be copied to.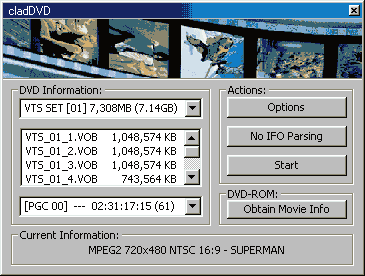 Step 2 - Press the "Options" button, select the pulldown from the "Audio Streams (Re-Map)" to select an Audio Track.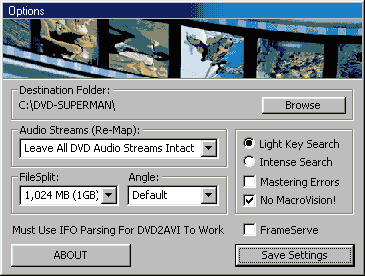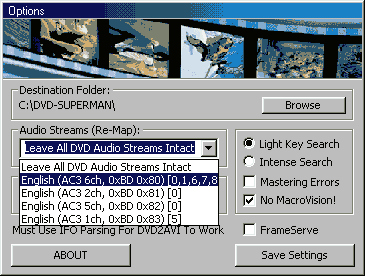 Step 3 - CladDVD XP also supports creating a D2V compatible FrameServing file, to do so, Press on the "FrameServe" button, and here you can set to use the quality of your movie under the "Video Settings" and also if you want to use the "Force Film" to create a NTSC Film 23.976 format for FrameServing.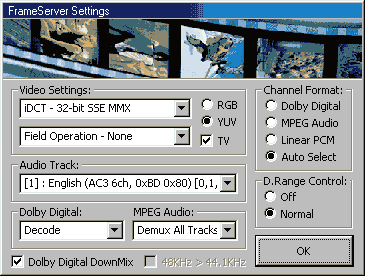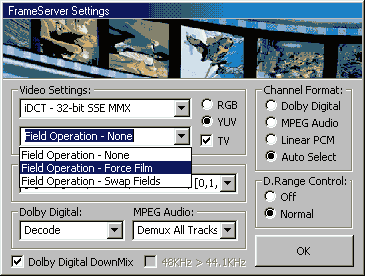 Step 4 - After you pressed the "OK" button, press " Save Settings" and you'll be back at the main screen, and you can press the "Start" to begin the copying progress. if you are going to do a DVD to DVDR, then you better click on "No IFO Parsing" so it will rip the entire movie.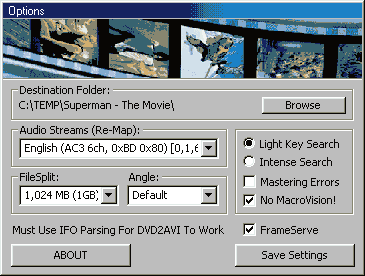 Step 5 - If you have selected to use the build-in " FrameServe" option, then when copying is done, it will automaticly invoke the internal DVD2AVI generator, which will open the "Statistics Window ", don't close it, when it's done, you are finished both copying and frameserving your movie.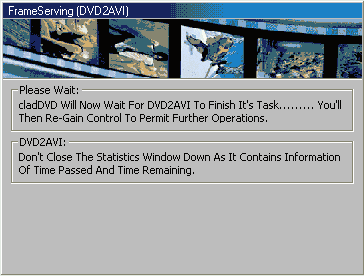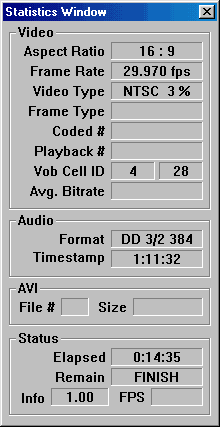 Next - Encoding from FrameServed Files or - Author to DVD Media!