AVI 2 MPG

Tools: Panasonic MPEG Encoder 2.5+

Launch Panasonic MPEG Encoder.

1. Select Video source(If any problems opening a file read the problems section at the bottom of this site). And then click use indentical files.
2. Select type VCD/PAL if you have the original source in 25 fps(frames/second) or VCD/NTSC if you have the source in 29,97fps or select VCD/NTSC if the source is 23,97fps but change the fps to 23,976fps under Video.
3. Select Special Processing. (see below)
4. Before yout Hit Start Encoding it's good idea to make short sample to view that evertything is correct, just start encoding and stop after some seconds and view the output.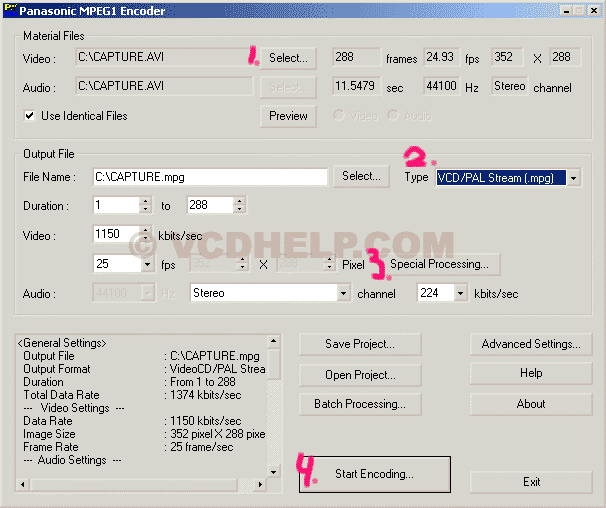 Special Processing
1. Here you can add borders if you want to remove something or to squeeze the movie. Or just remove noise headears ( if you have a DivX-movie you often have to add black borders to get correct aspect ratio, to calculate the correct ratio: example with movie in 640 x 304
for PAL-movies(25fps) 640 / 1.222 = 524 - 304 = 220 / 2 = 110 pixel both Top and Bottom
for NTSC-movies(29,97fps) you divide with 1.466 instead of 1.222.
2. Always use High Quality resizing.
3. Hit OK.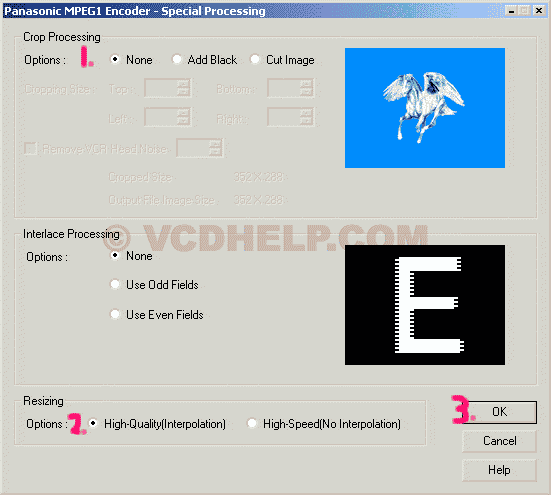 Now you can burn the mpg as a VCD or first you maybe have to cut or join the mpg then read the edit mpgs.


Problems:

No audio, out of sync or bad audio try to convert the audio to wav before converting. Use virtualdub read here how to do it.

If Panasonic freezes or crashes when converting a DivX, ASF, SMR or nAVI try to convert the audio to wav before converting. Use virtualdub read here how to do it.

If you have a Philips DVD Player and you want to fast forward/rewind your VCDs you should add a sequence header before every GOP, Panasonic MPEG Encoder doesn't have that features so you can add it after with Vitec MPEG-2 Pro. Use Vitec MPEG-2 Pro to re-process the Panasonic encoded video ".mpv" stream. It will automatically add the missing GOP sequence headers. You do NOT need to demux first. It is automatic. (thnx to mpegleg)
or
demultiplex the MPEG with for example TMPGEnc or bbmpeg and use this MPEGSequenceMakerv0.2 , open the demultiplexed video file and hit Start. Last multiplex the new video with the audio. thnx to Edwin
or
"I Have a Philips DVD825 player. I recently upgraded the firmware with a free upgrade disc from Philips to version 9.23 and now I have the ability to fast forward/reverse with VCD's whereas before I was unable to. With this upgrade it is no longer necessary to go thru the process of adding the sequence headers. I figure other people with Philips players might be interested in this to see if there is a firmware upgrade for their player." thnx to Mike