What is SVCD?
Download SVCD Sample
Technical Info
SVCD File Structure
Video file comparison
More info

SVCD
stands for "Super VideoCD". A SVCD is very similiar to a
VCD,
it has the capacity to hold about 35-60 minutes on 74/80 min CDs of very good quality full-motion video along with up to 2 stereo audio tracks and also 4 selectable
subtitles
. A SVCD can be played on many standalone DVD Players and of course on all computers with a DVD-ROM or CD-ROM drive with the help of a software based decoder / player. It is also possible to use menus and chapters, similiar to DVDs, on a SVCD and also simple photo album/slide shows with background audio. The quality of a SVCD is much better than a VCD, especially much more sharpen picture than a VCD because of the higher resolution. But the quality depends how many minutes you choose to store on a CD, less minutes/CD generally means higher quality.
SVCDs can be played on
- Many standalone DVD Players, check
here for compability list
- All CD-ROMa/DVD-ROMs can play SVCDs with a
software DVD/SVCD-Player
If your DVD Player does
not
support SVCD you can try this
VCD header trick
, it requires no reconverting which mean that you do not lose any quality.
Buy original SVCD Movies direct at VCDGallery.com
What is
CVD
then?
CVD is basicly the same as SVCD but with a lower video resolution. Using a lower resolution you get more data for each pixel which means less mpeg artifacts such as blockiness compared to a SVCD with the same bitrate, but you will lose some sharpness. Most SVCD capable standalone DVD Players supports CVD.
Download a CVD sample here
. Read
this CVD article
for more detailed info.
What is
XSVCD
then?
Read
here on the XSVCD Page
.
Downloadable SVCD Samples
http://www.pcphotovideo.com/SvcdSamples.htm , Read here how to play SVCD on your computer and read here how to author and burn a SVCD mpg to a SVCD on CD.

http://www.vcdimager.org/pub/vcdimager/examples/test_svcd/ , PAL and NTSC SVCDs with switchable subtitles. Burn the BIN/CUE with Nero or VCDEasy or extract with Isobuster.



| | |
| --- | --- |
| Technical Info for SVCD and CVD | |
PAL

Video:
max 2600 kbit/sec MPEG-2 (Audio + Video bitrate max bitrate is 2778 kbit/s).
480 x 576 pixels (CVD 352x576)
25 frames/second
with up to 4 Selectable CVD or SVCD Subtitles

Audio:
44100 Hz
32 - 384 kbit/sec MPEG-1 Layer2 or MPEG2 Audio
with up to 2 Audio Tracks

Extra :
Menus and chapters.
Still pictures 704x576,352x288

NTSC (NTSC Film)

Video:
max 2600 kbit/sec MPEG-2 (Audio + Video bitrate max bitrate is 2778 kbit/s).
480 x 480 pixels (CVD 352x480)
29,97 frames/second
23,976 frames/second with 3:2 pulldown (NTSC Film)
with up to 4 Selectable CVD or SVCD Subtitles

Audio:
44100 Hz
32 - 384 kbit/sec MPEG-1 Layer2 or MPEG2 Audio
with up to 2 Audio Tracks

Extra :
Menus and chapters.
Still pictures 704x480,352x240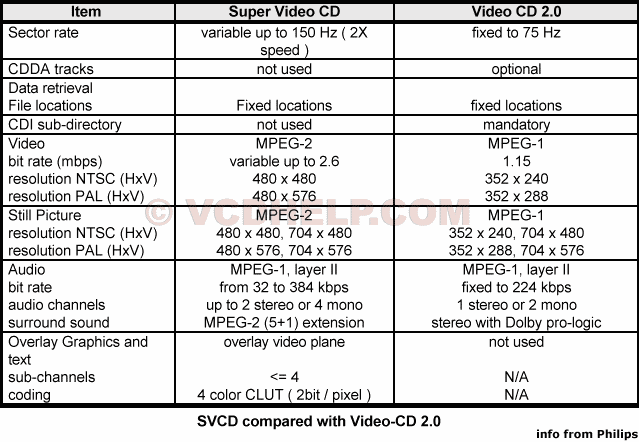 SVCD File/Folder Structure
| | | |
| --- | --- | --- |
| Folder | Files | Explanation |
| SVCD | INFO.VCD | Album and disc identification |
| | ENTRIES.VCD | Entry point list for up to 500 entries |
| | SEARCH.DAT | List of I-frame addresses |
| | TRACKS.SVD | |
| | PSD.VCD | Optional Play Sequence Descriptor |
| | LOT.VCD | Optional List ID Offset file |
| MPEG2 | AVSEQnn.MPG | MPEG2 files, max 99 tracks, the main movie, trailers, extras, menus |
| CDDA | AUDIOnn.DAT | Optional CD Audio files |
| SEGMENT | ITEMnnn.DAT | Segment play items, max 999 segments, still menus or still pictures |
| KARAOKE | KARINFO.xxx | Optional Karaoke information files |
| EXT | PSD_X.VCD | Optional extended version of PSD,VCD |
| | LOT_X.VCD | Optional extended version of LOT.VCD |
| | SCANDATA.DAT | List of I-frame addresses |
| | CAPTnn.DAT | Optional Closed Caption data |
| CDI | (undefined) | CD-i program and data files |
Format

VCD

SVCD


DVD

Blu-ray

MKV HD
MP4 HD
H264 HD
WMV HD

AVI
DivX
XviD
WMV

MOV
QuickTime

FLV
MP4

AVI
DV

Resolution
NTSC/PAL

352x240
352x288

480x480
480x576


720x480²
720x576²
1920x1080
1280x720
1920x1080²
1280x720²
640x480²
640x480²
640x480²
720x480
720x576

Video
Compression

MPEG1

MPEG2

MPEG2, MPEG1

H264
VC1
MPEG2

H264
VC1


DivX, Xvid, MPEG4 ASP, WMV

H264

H264, FLV, VP6, VP7, VP8

DV

Video bitrate

1150kbps

~2000kbps

~7000kbps

~30Mbps

~10Mbps

~1000kbps

~1000kbps

~700kbps

25Mbps

Audio
Compression

MP1

MP1

MP1, MP2, AC3, DTS, PCM
DTS-HD, EAC3, TrueHD, AC3, DTS, PCM
AAC, AC3, DTS, WMA
MP3, WMA, OGG, AAC, AC3
MP3, AAC
MP3, AAC
DV

Audio bitrate

224kbps

~224kbps

~448kbps

~448kbps

~448kbps

~128kbps

~128kbps

~64kbps

~1500kbps

Size/min

10
MB/min

10-20
MB/min

30-70
MB/min
50-150MB/min
50MB/min
4-10
MB/min
4-10
MB/min
4-10
MB/min
216MB/min

Min/74min CD

74min

35-60min

10-20min
4min-10min
10min
60-180min
60-180min
60-180min
3min

Hours/DVD

N/A

N/A

1-2hrs

30min-1hrs
1hrs
7-18hrs
7-18hrs
7-18hrs
20min

Hours/
DualLayerDVD

N/A

N/A

2-4hrs

60min-2hrs
2hrs
13-30hrs
13-30hrs
13-30hrs
37min

Hours/
Blu-ray 25GB

N/A

N/A

8-16hrs

2-4hours
6hours
40-100hrs
40-100hrs
40-100hrs
110min

DVD Player Compatibility

Great
Good
Excellent
None
None
Good
None
None
None

Computer CPU Usage

Low
Low
Low
Very high
Very high
Low
Low
Low
Low

Quality

Bad
Good*
Great*
Superb*
Excellent*
Great*
Great*
Great*
Good
kbps = thousand bits per second
Mbps = million bits per second
² approximately resolution, it can be higher or lower
~ approximately bitrate, it can be higher or lower
* the video quality depends on the bitrate and the video resolution, higher bitrate and higher resolution generally means better video quality but bigger file size

More info about SVCD

DVD to SVCD guide

How to convert AVI/DivX to SVCD


<