You can fit 740 MB on a 74 min CD and 800 MB on a 80 min CD
when burning in VCD or SVCD mode!
Install VCDEasy and launch it.
First we need to configure to burning.
Select Settings and select CDRDAO Integration and now you have to restart VCDEasy.



Now lets make the VCD.
1. Select VCD 2.0 if making VCD or SVCD if making SVCD.
2. Select your CD Writer( if not in the list read the problems section here)
3. Name the CD.
4. Select where to make the temporarily output.
5. Add your VCD or SVCD mpg file(s).
6. Now it is just to hit Go.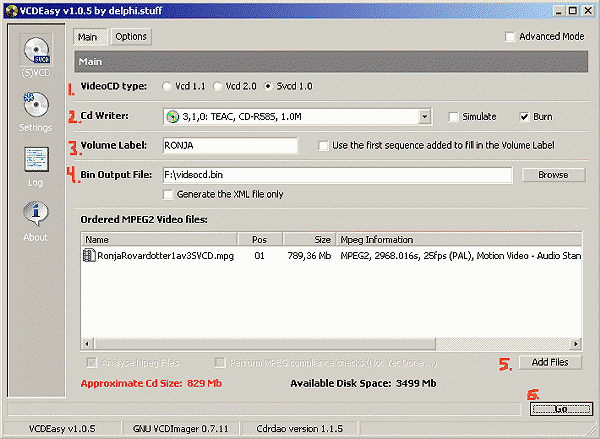 Done.

If you wanna make chapters and more advanced stuff read Sefys VCDEasy guide here.


Problems
My burner doesn't appear?
Try install a new ASPI Driver.

I get a error when it is going to burn?
You may need to select Force driver in the CDRDAO settings page.

If neither of that works
Your burner is maybe not supported by CDDRAO then you can burn with another software like CDRWIN or Fireburner. Just select No CD Writer and make the bin file by hit Go as usual and then read here how to burn a bin file.

Read the included FAQ for more details.