Tools: Toast 5.0 Titanium
This is the most common burning software for the Macintosh platform. It supports almost all CD-Burners out there, including SCSI, USB, Firewire, and IDE drives. It has just recently added a driver to burn MPEG movies on-the-fly as Video CD's. While with the older versions of Toast (i.e. Toast 3.X or 4.x) you had to use either Astarte M.Pack (bought out by Apple, and no longer available), or MPEG Power Professional, which were both expensive programs, took time to encode, and you had to make sure you had the "Toast Ready" option selected or you would have just screwed yourself, and have to start over again.

Instructions:

1. Open your copy of Toast 5 Titanium.

2. Hold down on the "Other" button and select "Video CD".

3. Drag your MPEG movie into the window, or click on "select".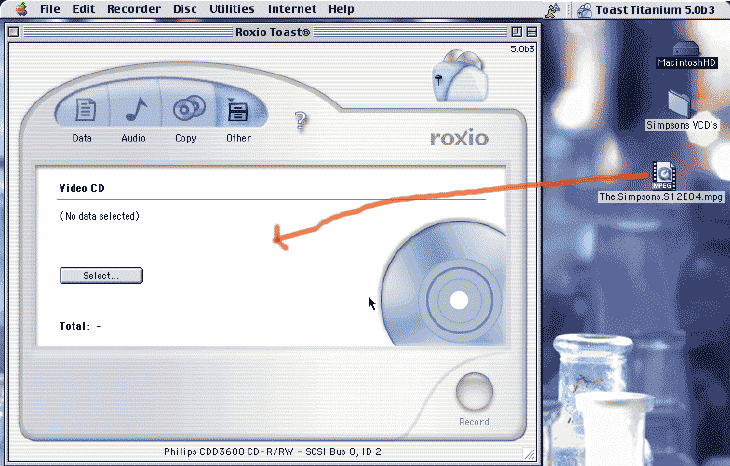 3a. If you clicked on "select", then enter pick if you have a Toast Video CD image, or just an MPEG file (one ending in either .mpg or .mpeg), and hit "OK" or "Cancel" to go back.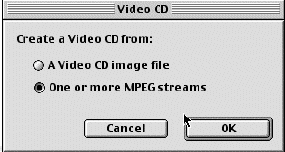 3b. Select your file, and hit "OK" when you are done adding file/files.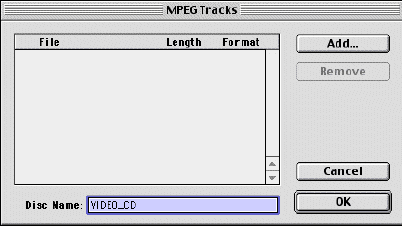 4. You are ready to burn...hit burn and "Simulate" if you need to, or just click "Write Disc". Now go watch TV, or something, unless you are burning under 4X, which I recommend, which allows you to background burn (use the computer while the burning process takes place).
Enjoy, you now know how to make a Video CD on a Mac!



Guide Made By Brent