AVI 2 XVCD
Note!!!
To convert from DV video you may need to install the Panasonic DV Codec.
To convert from DivX/XviD video you have to install a DivX/XviD Codec, you may need both DivX 3.11 and the DivX 4 or 5.
To convert from QuickTime MOV videos you must download the QTReader.vfp and copy it to the TMPGEnc folder.
To convert from MPEG2/SVCD/DVD videos you may need the MPEG2 Plugin or a MPEG2 Codec/Player.
To convert from DivX/XviD with AC3 Audio install the AC3 ACM Decompressor.
To convert from MKV install the matroska / MKV Codec.
To convert from OGM install the OGG Vorbis DirectShow filter/ OGM Codec.

If you receive any errors or have problem opening files in TMPGEnc be sure to read the TMPGEnc Common Problems.



Guide

Tools: TMPGEnc.

Launch TMPGEnc and close the Wizard.

1. Browse to open the Video source(if you have trouble opening a video file read the problem at the bottom of this page).

2. Hit the button Load at the bottom right and open the correct Template that you find in the TMPGEnc folder under Templates, open
VideoCD(PAL) if the original source in 25 fps or
VideoCD(NTSC) if the source in 29,97/30fps or
VideoCD(NTSCFilm) if the source is 23,97fps.

To check what the FPS (frames per second) is open the the AVI/DiVX with Windows Media Encoder and select View->Statistics. If the video is some strange fps as 20fps / 60fps or something try with either PAL or NTSCFilm and see what looks best.

3. Now hit again Load and load the the unlock.cfm that is in the Extra folder. <— IMPORTANT

4. Select Settings. (see below here )

5. Before You Hit Start, it's wise to use the File->Preview to see how the video with look like and it's also good to make a short sample before you encode the entire movie. You can encode some seconds and Stop and view the output.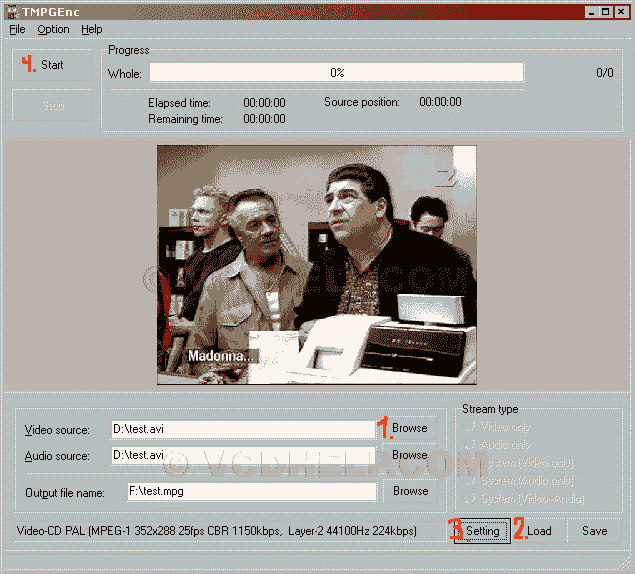 Settings
Under Video, you can change the Size to 720x480 (for NTSC) or 720 x 576( for PAL) and try if it's work with your player. If not then leave it at as it as. Here you can also change the Bitrate, higher bitrate = better quality but takes more space. You can use this Calculator to calculate the bitrate so the movie will fit on one CD. But don't use too high bitrate...max around 2500 kbit/sec(it depends on your DVD Player).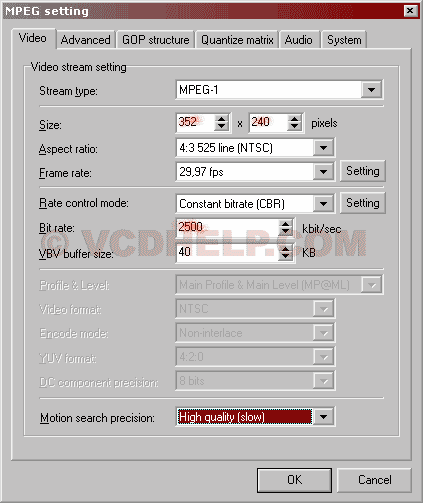 Under Advanced select these settings.
Select Source Aspect Ratio select 1:1 (VGA) (if your source is in 4:3 select 4:3 525 line(NTSC) for NTSC and 4:3 625 line(PAL) for PAL).
and under Video Arange Method Full screen(keep aspect ratio).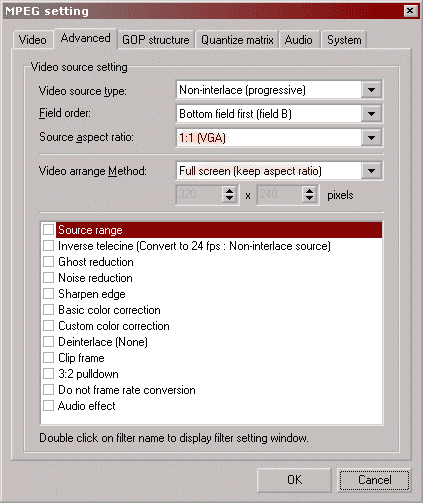 Under System change to MPEG-1 Video-CD(non-standard)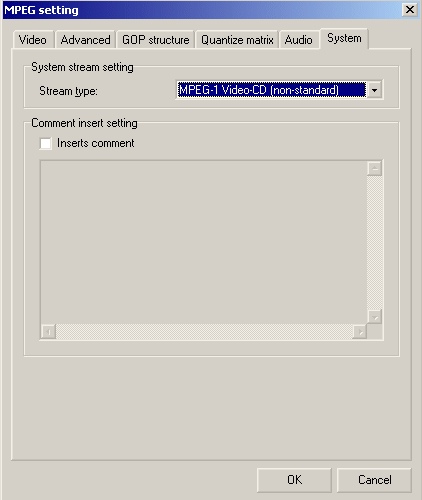 And under GOP, Quantizer matrices, Audio and System need no changes.

Now you can burn the XVCD mpg with Nero, follow this Nero XVCD guide. You maybe have to cut or join the mpg then read the edit mpgs.