SpruceUp
Tools
:
SpruceUp (free trial available)
but you can't buy it any more
. A
DVD-+R(W)
if you want to "real" DVD and to sure that it plays on your standalone DVD Player. Or else you have to burn the DVD on a CD-R(W), thats called
miniDVD or cDVD
.
Guide
Launch SpruceUp.
Select File->Preferences.
Select to what media you are gonna burn to, CD-R(W) for miniDVD/cDVD that NOT can be played by many standalone DVD Players or
DVD-R(W)
for "real" DVD that can be played by almost all DVD Players.
Select also if you are going to make NTSC(US,Japan) or PAL(The rest of the world) DVD.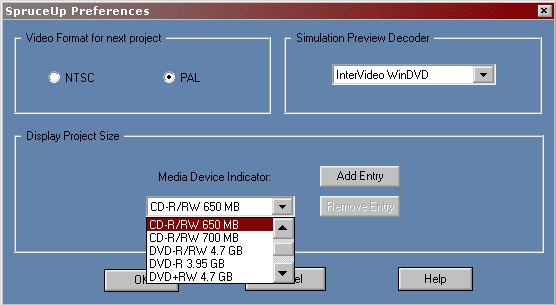 Add MPEG2 Videos
Add the DVD-Video MPEG2s that you have made with
TMPGEnc
for example, click on the Movies button and right click in the window below and selec Add Media Assets.( You can have several video mpeg2 clips)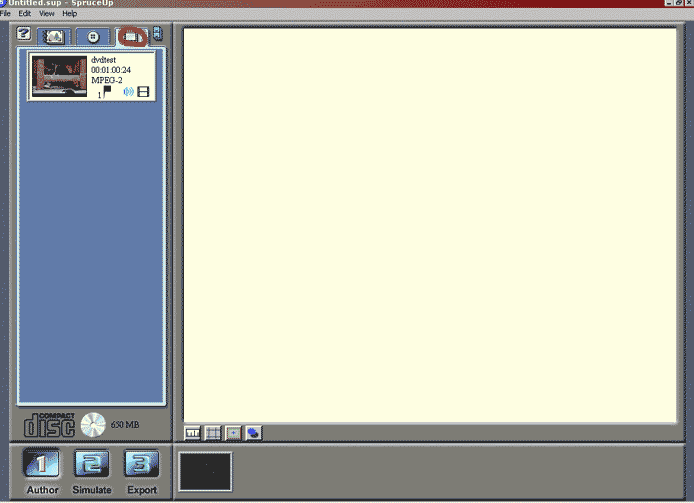 Add menus, backgrounds, buttons
and
chapters
.
1. Click on the background and select any background and drag it into the big window on the left
2. Now select any button under the button menu, drag them into the window.
To add text just click in the big window and type whatever you want then click on the text to move it.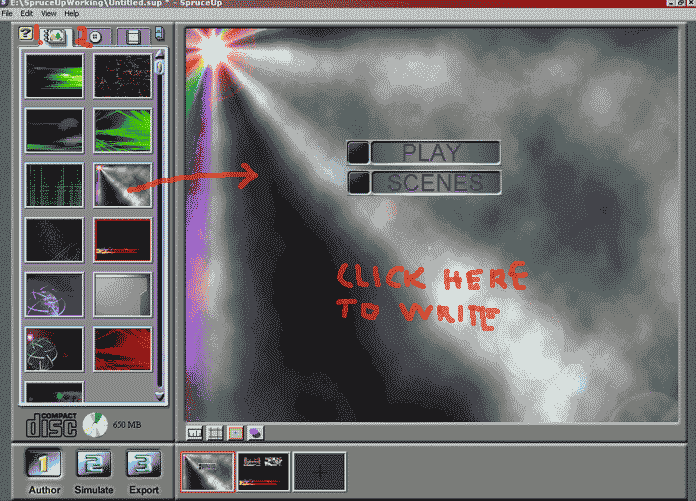 Add now for example a second menu page, drag the background to the bottom right.
And then click on it.
Here can you add text and button also, but here have I choose to add chapters from the movie, read
below
how to add them.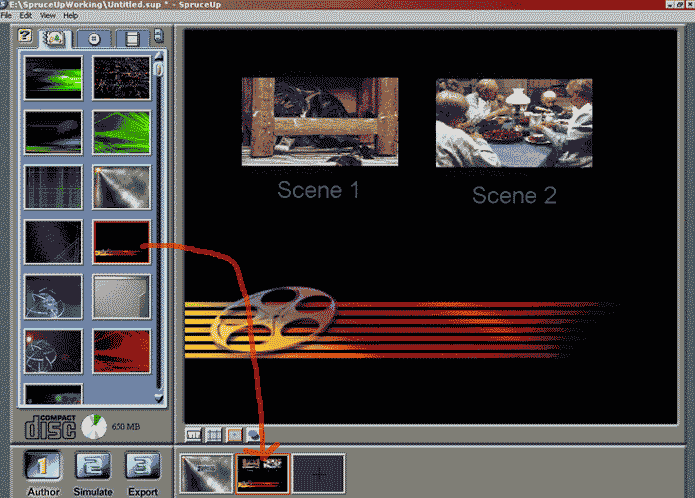 To add
chapters
you have to click on
View-> Clip Properties
1. Drag the bar where the first chapter should start.
2. Select the chapter name, can be anything.
3. Click on the add chapter point, now repeat this step for how many chapters you want.
4. Last do you click on the Make buttons and chapters screenshots should appear in the big window(picture above).
Connect buttons
to actions
Before we burn we have to connect every button to something.
Select the
first menu page
Click on the right button on the Play button and select where it should point to, in this case to the
Movies->dvdtest->Chapter 1
.
And right click on the SCENES button and select
Menus->Menu2->Button1
.
Select the
second menu page
and right click on the chapter screenshots images to point to chapter 1 and chapter 2.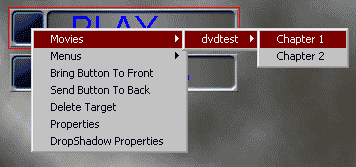 Simulate
Now could you test the DVD by clicking on the Simulate in the left bottom corner to test the DVD, if something doesn' t work go back and change it.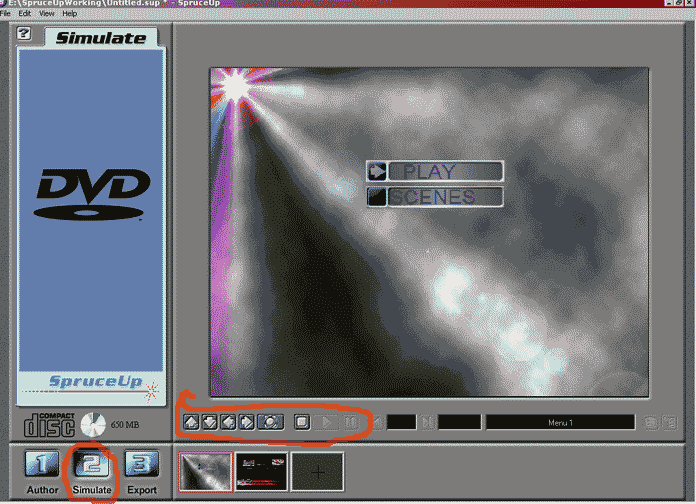 Export
Last it's just to click on the Export and burn or make an image of Your own made DVD.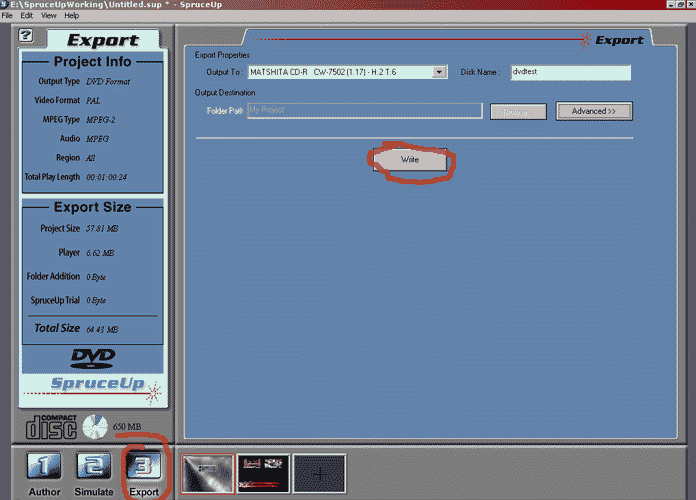 If you have burned on a CD-R(W) it should work on your computer DVD-ROM with any
software DVD Player
and if you have
a miniDVD capable standalone DVD Player
it should work on it also. This is called
miniDVD
or
cDVD
.
If You have burned it on a DVD-R(W) it should work on your computer DVD-ROM with any
software DVD Player
and on your
standalone DVD Player
.
You can also make a Title set and then burn the VIDEO_TS folder with
another DVD burning tool
if you
burner is
not supported by SpruceUP
.

Problems
The picture zooms in on a corner of the menu screen when playing on my DVD Player
Check
here
for a solution