Cdrwin
Burn a bin-file with CDRWin.

You should have one .bin and one .cue-file.


The size of the file does NOT MATTER. You CAN burn a file bigger than 650MB!You don't need 80 minutes cds!


First you have to check that your .cue-fileis correctly "configured". Open your .cue-file with a text-editor. It should look something like this
FILE "CD2.BIN" BINARY
TRACK 01 MODE2/2352
INDEX 01 00:00:00
TRACK 02 MODE2/2352
INDEX 01 00:06:12
Sometimes the first line says:
FILE "C:\VCD\CD2.BIN" BINARY
Well, that will work AS LONG as the the .bin files is located in that directory. Otherwise you have to type the right path!
Now launch CDRWin! Click on the button at the top left corner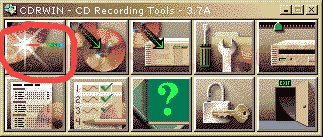 1. Press "Load Cuesheet"-button, choose your .cue file!
2. Here you can see wich file you choosed!
3. Press "Start Recording"!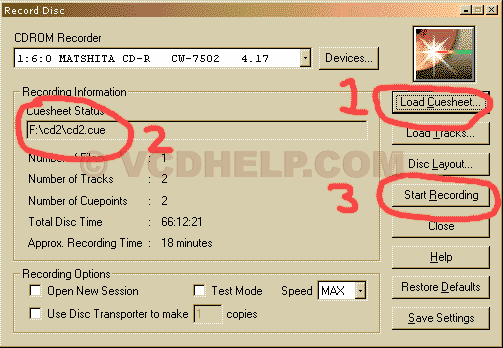 Now you should have a CD with a .dat-file on it. It is stored in X:\MPEGAV\